Come experience triple speeds and performance with the Sea Doo Seascooter Explorer X. The Seadoo Explorer X scooter ZS07 dive propulsion vehicle(DPV) features variable tri-stage speed control with 3-speed selection and packs thrust for a speed of up to 3.3mph and run time of up to 2 hours.
3 variable speeds up to 3.3 Mph and 120 minutes of run time

Depth Rating: 160 ft.

Onboard Battery Indicator LED, Left or Right Trigger Operation

External Adjustable Buoyancy System

Wireless "Easy Charge" Battery Charging System
The SEADOO® SEASCOOTER™ EXPLORER™ X is a superior DPV to the market that is easily accessible to anyone who sees diving as a passion and divers seeking new thrills underwater. The top-of-the-line Explorer™ X features 3-stage seal waterproof integrity, and is outfitted with new pressure-valve technology that allows smart depressurization of the unit after ascending to the surface. Also, you'll be able to accurately estimate your run time with onboard battery indicator light. Save air and spend more time exploring new dive sites, reefs and wrecks. Variable Tri-stage speed control – 3 speeds selection Weight just 32 lbs / 14.5 kg including battery Speed up to 3.3 mph / 5.3km/h with battery life of 2 hours based on normal use. Advised maximum depth and standard recreational diving limit 130 ft / 40m (Maximum tested depth rated to 50m/160ft) Improved safety features: water protection, low battery voltage protection, over current protection, high temperature protection, audible alert when water ingress, safety lock and auto shut-off function.
Standard Equipment Includes: Explorer battery pod, battery charger, 4 ballast weights, carry handle.
There is a newer model of this item: Yamaha 275L Underwater Sea Scooter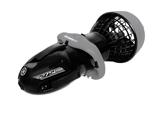 Sea Doo Seascooter Explorer X
7
Average rating:

Write a review
|
Read all reviews
Featured Reviews:
Sea Doo Seascooter Explorer X

Solid Scooter
03/23/2014
Upgraded from the VS Supercharged which I had for years. This is a big upgrade: heavy duty build, far more thrust/power than the VS, 3 speeds(which you can control from either trigger) and you can easily adjust buoyancy without opening unit. It's nice to have a battery indicator light but would be nice if it was larger/brighter. Shipped very fast. Overall very pleased with the Explorer X-recommended.
Sea Doo Seascooter Explorer X

Recommended
02/04/2016
It wasn't that long ago when a decent DPV was over $2000 and weighed 80 pounds. I bought the 2016 model with a spare battery for just over a grand and am very satisfied. I usually dive between 90-120 ft and took this down to 145 with no problems at all. Pros: Very simple maintenance especially if you're familiar with taking care of underwater camera housings, lights etc. There a 3 0-rings you'll want to keep lubed and 4 small 0-rings on the battery ports. Note: when I pulled the battery out of the unit for the first time it was a bit sticky and a couple of the small 0-rings pulled off the battery ports. Reinstall these then lube them lightly and they'll stay on fine. The Explorer X is not very light but it's not very heavy either and is easy enough to carry on shore dives using the carry handle. Without ballast its a bit positive. It's easy to switch ballast on this unit and doesn't require opening the unit. I use all 4 ballast slots which makes it about neutral/negative in salt water.
Sea Doo Seascooter Explorer X

Nice DPV Nice Price
03/08/2015
Just a terrific performer at this price point. As stated in prior reviews this is a heavy duty machine but is weightless in the water and buoyancy is easy to adjust. Ergonomically this is my favorite DPV: trigger placement is perfect and being able to operate from either left or right trigger is a plus. Maintenance is simple(keep seals clean and lubed) and removing battery is straight forward and hassle free compared to other DPVs I've used.