Come experience triple speeds and performance with the Sea Doo Seascooter Explorer X. The Seadoo Explorer X scooter ZS07 dive propulsion vehicle(DPV) features variable tri-stage speed control with 3-speed selection and packs thrust for a speed of up to 3.3mph and run time of up to 2 hours.
The Sea-Doo Seascooter Explorer X has been discontinued.
There is a newer model of this item: Yamaha 275L Underwater Sea Scooter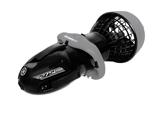 Sea Doo Seascooter Explorer X
7
Average rating:

Write a review
|
Read all reviews
Featured Reviews:
Sea Doo Seascooter Explorer X

Solid Scooter
03/23/2014
Upgraded from the VS Supercharged which I had for years. This is a big upgrade: heavy duty build, far more thrust/power than the VS, 3 speeds(which you can control from either trigger) and you can easily adjust buoyancy without opening unit. It's nice to have a battery indicator light but would be nice if it was larger/brighter. Shipped very fast. Overall very pleased with the Explorer X-recommended.
Sea Doo Seascooter Explorer X

Recommended
02/04/2016
It wasn't that long ago when a decent DPV was over $2000 and weighed 80 pounds. I bought the 2016 model with a spare battery for just over a grand and am very satisfied. I usually dive between 90-120 ft and took this down to 145 with no problems at all. Pros: Very simple maintenance especially if you're familiar with taking care of underwater camera housings, lights etc. There a 3 0-rings you'll want to keep lubed and 4 small 0-rings on the battery ports. Note: when I pulled the battery out of the unit for the first time it was a bit sticky and a couple of the small 0-rings pulled off the battery ports. Reinstall these then lube them lightly and they'll stay on fine. The Explorer X is not very light but it's not very heavy either and is easy enough to carry on shore dives using the carry handle. Without ballast its a bit positive. It's easy to switch ballast on this unit and doesn't require opening the unit. I use all 4 ballast slots which makes it about neutral/negative in salt water.
Sea Doo Seascooter Explorer X

Nice DPV Nice Price
03/08/2015
Just a terrific performer at this price point. As stated in prior reviews this is a heavy duty machine but is weightless in the water and buoyancy is easy to adjust. Ergonomically this is my favorite DPV: trigger placement is perfect and being able to operate from either left or right trigger is a plus. Maintenance is simple(keep seals clean and lubed) and removing battery is straight forward and hassle free compared to other DPVs I've used.